The Grammy Awards 
For Your Consideration 
Best Jazz Instrumental Album 
Best Liner Notes
 Listen on Bandcamp
 REVIEWS
…it is with the Burning Bridge octet that Hwang has probably reached the maximum of his aspirations and conceptions: three months ago the second recording of the Burning Bridge was released, entitled Blood, an incredibly compelling summa of instruments that play jazz, classic or traditional Chinese; pipa and erhu (Sun Li and Wang Guowei) are used against tuba, trombone, trumpet (Joseph Daley, Steve Swell, Taylor Ho Bynum) and the usual low-battery rhythmic plant (Filiano-Drury) and the improvisation releases a perfect balanced climate, with so much energy and resourcefulness on the part of all the soloists. - Ettore Garzia,  Percorsi Musicali  (google translation from Italian)  Read Full Review
...Hwang is one of the interesting voices in the creative spot that, after all, remains the New Yorker's Lower East Side... In "Blood," the originality of the compositions, coupled with the inventiveness of improvised interactions (usually duos or trios of variable constitution) shows that a collective design rises to give coherence to the hybrid sound of formation from which emerge sudden changes of direction, variations in thickness of the arrangements and intricate timbral games. - António Branco. jazz.pt  Read Full Review
***** Jason Kao Hwang is a unique artist. He is a composer and a conductor and violinist and he is one of the frontrunners in creative jazz. His technique focuses on improvisation and not only as a performer, but also as a composer.  ….An uncompromising vision as it is challenging. Fine artistry on every count.  Grady Harp, Amazon.com, 10/18/18 Read Full Review
The enormity of emotions, the multiplicity of ecstasy and the almost ecstatic parts of individual instruments, make the album "Blood" an exciting and captivating experience of each of the recipients open to new experiences. … "Blood" is not only a fascinating clash of Asian folklore with the free jazz formula, but also a unique show of virtuosity of each musician and an example of an ideal artistic correlation. Robert Ratajczak, longplayrecenzje.blox   (google translation of Polsh) Read Full Review
What's always most striking about Jason's work, whether solo or in ensemble, is the originality… he ALWAYS provides a listening experience that's different – and WONDERFUL... I give Jason and his ensemble a MOST HIGHLY RECOMMENDED, with an "EQ" (energy quotient) rating of 4.99 for this diverse and challenging album. Dick Metcalf, editor, Contemporary Fusion Reviews, October 15, 2018  Read Full Review
By constantly alternating the density of the orchestrations, Hwang suggests different scenarios that correspond to transformative states of mind. The thrills of spontaneity come from individual statements but also from interspersed interlocutions with two or three musicians. After all, this is music of exploration and reflection. Felipe Freitas, jazztrail.net, 11/13/18 Read Full Review
All musicians of this ensemble are original and individual players…Dynamic turns, sudden stylistic changes and simultaneous used expressions, playing techniques, scales, chords and timbres reveal an original point of view of improvisers and helps them to create fabulous and passionate sound… All music of this album is simply beautiful, luminous and passionate – it has driving, crazy, bright and innovative sound. Avant Scena Contemporary music blog Read Full Review
They've found a way to make "East meets West" work. This is a fascinating, rather chilling, but ultimately inspiring set of music, unlike anything most of us have heard. Not only are the compositions challenging and far reaching but the Burning Bridge ensemble consists of a unique set of instruments. Jim Hynes, makingascene.org, 11/12/18   Read Full Review
This is an unapologetic, Avant-garde experience full of creativity and protest, played by a number of talented and uninhibited musicians. Fasten your seat belt. Dee Dee McNeil, musicalmemoirs.wordpress.com Read Full Review
"Blood" by Jason Kao Hwang and Burning Bridge is the last album of one of the most original avant-garde musicians: compositions captivate but are also demanding for the listener - the album is a multicultural sound hybrid. - jazzarium.pl  (google translation of Polish) Read Full Review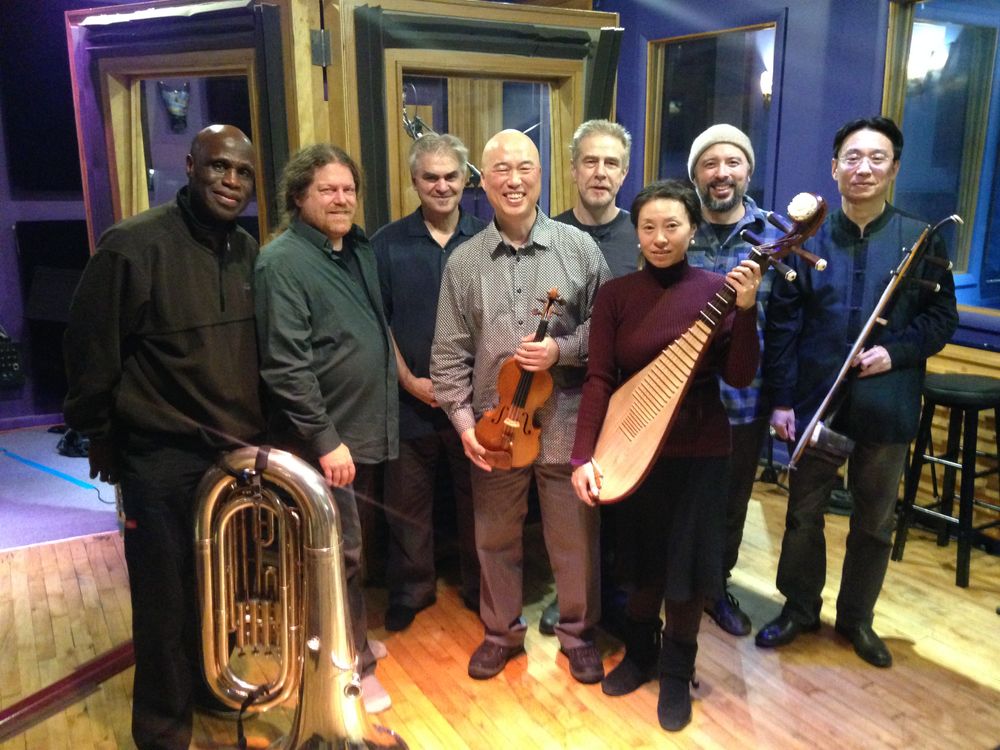 COMPOSER NOTES
While driving down on an unlit road, my headlights flashed upon the bleeding carcass of a deer. My heart rate exploded as I swerved away, narrowly avoiding a collision. This overwhelming shock made me reflect upon my mother's harrowing experiences in China during World War II. She was in a pharmacy struck by a Japanese bomb. Knocked unconscious, she awoke as the lone survivor surrounded by the dead.  I also thought about Butch Morris and Billy Bang, musicians I've worked with who fought in Viet Nam. The magnitude of pain and sorrow that they endured is unimaginable.   
 Blood meditates upon the emotional traumas of war retained within the body as unspoken vibrations that reverberate throughout communities and across generations. Through Blood the violence of deeply held memories are not relived but transposed into our sound. Blood in our sound rise within our voices as strength flows into wholeness.    
Extreme danger triggers powerful forces of "fight or flight". This conflict can produce an immobility response, which penetrates and remains within the body as emotional trauma. Similarly, when a bomb explodes, there is blast wave outward that leaves a near vacuum in its wake. This is filled by an equally deadly blast wind in the opposite direction. Within an explosion, Blood was created.  - Jason Kao Hwang
LINER NOTES by Scott Currie 
Blood by Jason Kao Hwang and his Burning Bridge ensemble represents the latest masterwork to date in the oeuvre of one of the jazz avant-garde's most original compositional voices: an uncompromising artistic vision as captivating as it is challenging. Hwang succeeds here at incorporating improvisational statements into unified compositional schemes with what strikes me as a cinematic, directorial style, an engaging conception of sonic cinéma vérité. His mastery of musical mise-en-scène allows him to place his outstanding cast of artists within well-structured soundscapes, across which he pans with lyrical lines and propulsive rhythms that his soloists continue seamlessly, as he zooms in to foreground their candid improvised responses to the challenging situations in which they find themselves. The compositional stage-sets he conceives showcase an activist aesthetic of polycultural hybridity, in which uniquely orchestrated sounds combine to evoke overtones of his own Asian American history and location. Building upon Burning Bridge's acclaimed debut recording (2012, Innova), he brings experimental jazz styles into mutually enriching dialogue with traditional Chinese music in order to confront, contemplate, and counteract the unspeakable violence whose disturbing, unrelenting echoes engendered this piece.  
He explores this harrowing theme across some 28 painstakingly staged scenes, comprising a continuous play of sound divided into five acts. The first act begins and ends with the reverberations of distant bass explosions with flying treble debris, in between which ensemble lines guide brass soloists through unfolding ritual contexts, and freeze-frame sustained tones launch duos or trios into intense dialogue; collective improvisations flow seamlessly into individual statements, which in turn give way to lyrical contrapuntal melodies before returning again to ensemble extemporization. The second act opens with a mournful ceremonial procession that suddenly transforms into a bluesy strut over a sinewy rhythm-section groove that carries violin and cornet solos into juxtaposition with subsequent erhu and pipa solos, which lead into a climactic syncopated ensemble passage. The third act returns to the ritualized austerity of the first, with a tuba solo over processional strings, followed by freeze-frame pipa-percussion and trombone-erhu-bass dialogues, flowing into aggressively rhythmic ensemble figures that set off an explosive drum solo, over which a concluding free-rhythm coda ultimately marches off. The fourth act brings the beat back, with an angular ensemble passage launching a series of bluesy solos over a muscular shuffle groove, which further propels violin-led call-and-response exchanges into collective improvisation that resolves into to a world-weary ensemble reprise; even the funky violin solo and light-hearted string passage that follow cannot prevent the return of repressed, collectively improvised, traumatic memories. The final act expands the first's reverberating booms and flying debris into bass and tuba solo salvos underscored by string shrapnel, introduced, bridged, and concluded by poignant ensemble prayers for peace.  
The impassioned realization of this ambitious script owes much to the empathetic artistry of the virtuoso ensemble Hwang has assembled and sustained since 2009, with support from Chamber Music America, the Doris Duke Foundation, and U.S. Artists International, as well as performances at Edgefest, the Vision Festival, the Victoriaville Festival de Musique Actuelle, the Chicago World Music Festival, the University of Massachusetts, Flushing Town Hall, Roulette, and the Bop Shop.
Blood was recorded on March 11 and 12, 2018 at Kaleidoscope Sound in Union City, NJ.
Producer/Mix Engineer: Jason Kao Hwang
Recording Engineer: Kyle Cassel
Mix Consultants: Andrew Drury, Ken Filiano
Mastering Engineer: Paul Zinman, SoundByte Production
Liner Notes: Scott Currie
Art and Design: Bill Mazza 
Our deepest thanks to the GoFundeMe supporters who contributed over $6000 to produce this recording:  Mimi Hwang, Kaikay Hwang, Scott D. Miller, Tom Swafford, Luis Torregrosa, Philip Perret, Nancy Meli Walker, Ed Hazell, Joseph Daley, Leila Kronenberger, Melyssa Clibbon, Larry Blood, Eric Salazar, Jamie Baum, Carol Kraus, Lynne McVeigh, Ron Alden, Kyoko Kitamura,Wilfred Loh, Taiyo Ebato, Taylor Ho Bynum, Fred Eurich, Rob Miller, Suzanne Lam, Robert & Donna Iannapollo, Douglas Cohen, Peter Pohly, Peter Schulz, Marc Andren, Tom Kohn, Mark Chung, Peter Marter, Han-earl Park, Albey Jane, Kaoru Watanabe, Masaki Yamagata, David Sewelson, Peter Kuhn, Midori Licht, Ken Irwin, Chris McIntyre, Jeff Song, James Keepnews, Dinah Kierstead , Piotr Michalowski, Patrick Frisco, Laura Chen-Schultz, Brenda Vincent, Jean Chiang, Jean Tsien, Dan Edes, Eric Chen, Kathleen Schwallie, Miguel Vidal, Pei Lee, Phil Jones, Michael Resil, William Parker, Florence Barrau-Adams, Diane Moser, Lars Bjorn, Patrick Grant, Stephen Schmidt, David Simons, Robert Sutherland-Cohen, Pauli Hallman, Bill Mazza, Elizabeth Panzer, Alexander Walton, Kenneth Lam, Gregg Miller, Ramsey Ameen, Bill McConaghy, Michael McNeill, Akira Abe, Michelle Kinney, Abby London-Crawford, Geoffrey Lee, Ben Stapp, Patrick Brennan and Anonymous Donors. 
Below is the GoFundMe video about Burning Bridge and the composition Blood.
With Burning Bridge, composer/violinist Jason Kao Hwang  sets the boundaries of aesthetic sensibilities, cultural assumptions, and his personal history ablaze. Hwang burns bridges between the traditional roles of the ensemble's instrumentation—whether jazz, classical, or traditional Chinese—to forge a single musical voice that resonates with distinct cultural overtones. With the poetic complexities inherent to this sound, the music possesses all the attributes of any human being. Burning Bridge is the experience, not the representation.  Burning Bridge by Jason Kao Hwang was founded in 2009 with support from Chamber Music America's 2009 New Jazz Works: Commissioning and Ensemble Development program funded through the generosity of the Doris Duke Charitable Foundation. 
   
Burning Bridge  was featured in the 2018 summer issue of Chamber Music America Magazine. Burning Bridge was chosen on the following Best Jazz Recordings of 2012 lists:  Kevin Whitehead, NPR, Fresh Air; Ed Hazell, Jazziz; Robert Iannapollo, NYC Jazz Record; Steve Koenig, Acoustic Levitation; Giuseppe Segala, All About Jazz, Italy; Lloyd Sachs, JazzTimes  
   
In 2015, Burning Bridge, with the support of U.S. Artists International, performed at the Festival de Musique Actuelle in Victoriaville, Canada. They have also performed at the University of Massachusetts, Flushing Town Hall (NYC), Vision Festival (NYC), Roulette (NYC), Chicago World Music Festival, Edgefest (Ann Arbor, MI), and the Bop Shop (Rochester, NY).  
  
Click here for Biographies of the musicians.
 
SELECT REVIEWS OF BURNING BRIDGE, THE FIRST CD

The enormity of the piece did not truly settle in until it ended. Suddenly the feeling became overwhelming and the only thing you could do, was what many in the audience did, sigh and say "wow."  -  Paul Acquire, Free Jazz Collective  Read Full Review

The festival began innocently enough on Thursday at 8 at the Pavilion Arthabaska, a chalet overlooking the city of Victoriaville and the surrounding countryside, with a performance by Jason Kao Hwang's Burning Bridge octet, a string and brass band that played a sort of American free jazz with Chinese inflections and blues tonalities. Violin, pipa, erhu, and bass faced off across the stage with tuba, trumpet and trombone, doing a suite of compositions from Hwang's recording "Burning Bridge." Hwang's group achieved the balance that they were looking for. The compositions featured sections of duos, in all possible permutations of the string/bass combination, and the playing was full of color and texture, detailed, voices emerging unexpectedly behind whatever was the momentary focus. The colorings of Joe Daley's tuba and Sun Li's pipa were astonishingly subtle and effective, and the soloing of Hwang, trumpeter Herb Robertson and trombonist Steve Swell was inspired.  Mike Chamberlain, All About Jazz, May 18, 2015  Read Full Review
Led by Jason Kao Hwang, the American virtuoso violinist, Burning Bridge combined erhu (two-stringed violin) and pipa (four-stringed lute) with a powerful horn section and mighty rhythm unit in a 90-minute set of originals.  Irwin Block AMN Reviews, May 15, 2015   Read Full Review

Violinist Jason Kao Hwang stands at the crossroads of his influences - classical, jazz and traditional Chinese music - and sets the divisions between them ablaze. 
DOWNBEAT, Shaun Brady - May 1, 2013  Read Full Review 
 That natural flow is one of strengths of Burning Bridge; the mixing doesn't feel contrived. To extrapolate a little, this multifaceted music recognizes how we all define ourselves in different ways at different times; our behavior shifts to accommodate coworkers, family, friends or strangers. Which is to say we're all code switchers. Jason Kao Hwang makes us hear what that sounds like.  
National Public Radio, Kevin Whitehead - November 26, 2012  Read Full Review 
Hwang has his finger firmly on the racing pulse of the 21st century, where everything interconnected and boundaries of time and geography seem hopelessly quaint.  If there is a war cry for music of the new millennium, it might well be:  Burn the bridges – there's no going back.  
Stephen Brookes, The Washington Post, November 22, 2010  Read Full Review 
Burning Bridge is an incredibly personal journey that transcends the traditional review by becoming a complete experience for the critic and for the average listener... A truly stunning release of intimate beauty and simplicity. 
Critical Jazz, Brent Black - June 12, 2013  Read Full Review
On Burning Bridge, the veteran experimentalist strips his enterprise down to an octet but reaches for the spheres to equally profound effect. The five-part work combines, sometimes strikingly, elements of jazz and classical and traditional Chinese music. In doing so, though, it strives not for seamlessness but for illuminating contrasts and juxtapositions.  - JazzTimes, Lloyd Sachs - April 1, 2013  Read Full Review 
Another key feature is the interplay between Chinese and Western instruments.   Hwang frequently plays them off against each other...  But rather than displaying an opposition or contrast, it's amazing how the two complement each other.  This is also true of ensemble passages, where the blend can be invigorating and intoxicating....Hwang's composition, while epic in scope, conveys the intimacy of lives lived in a foreign culture.  
- The New York City Jazz Record, Robert Iannapollo - December 1, 2012  Read Full Review   
In the complexity and richness of these compositions, the sense of how accomplished Hwang—and all these musicians—are as instrumentalists can easily be lost... Burning Bridge is both a transcendent and challenging experience, and with repeated listening the characteristics of each movement can shift in emphasis, and become reinvented.  - All About Jazz, Karl Ackerman - February 25, 2013   Read Full Review 
 The results are thoroughly convincing, conceptually strong and filled with excellent music, excellently performed.... What is reaffirming as well as a little startling is how well the music fits together. It comes across as whole, and significantly so at that. It's avant, free, composed, pan-ethnic (we are all ethnic after all) and completely inimitable.   Gapplegate Music Review, Grego Applegate Edwards - February 8, 2013  Read Full Review 
This absolutely blew me away when it was performed at the Vision Festival this year, and I craved a recording of it.  Recorded shortly after that live performance, this CD is perhaps the best single release of the year.   - Acoustic Levitation, Steven Koenig - January 28, 2013  Read Full Review