My string orchestra, Myths of Origin, will perform at the Vision Festival on Saturday, June 25, 6:30pm. The music is an outgrowth of my years with Butch Morris, organizing the Strings for Leroy Jenkins for Billy Bang and my Spontaneous River Orchestra.
Myths of Origin 
Jason Kao Hwang - composer/conductor/violin
VIOLINS:  Charles Burnham, Mark Chung, Keir GoGwilt, Gwen Laster, Gabby Fluke-Mogul, Rosi Hertlein,Talice Lee, Elena Moon Park, Ben Sutin, Tom Swafford, Johnna Wu 
VIOLAS:  Ginger Dolden, Melanie Dyer, Judith Insell, Pete Lanctot, Eric Salazar 
CELLOS:  Dara Bloom, Kirin McElwain, Lester St. Louis, Tomas Ulrich 
GUITARS:  Che Chen, James Keepnews, Anders Nilsson, Hans Tammen 
STRING BASS:  Ken Filiano 
DRUMS:  Andrew Drury
Jason Kao Hwang's composition, Myths of Origin, performed by his improvising string orchestra with drums, defies mainstream society's enduring fetish for Orientalist fantasies, a history woven inextricably into unconscious biases that can, as evident in this past year's exponential increase of hate crimes against Asian Americans, progress into explicitly racist violence. This music will be performed on March 5, 8pm, at the Zurcher Gallery, 33 Bleeker Street (bet. Lafayette and Bowery). Admission: $20 
Myths of Origin, inspired by jazz, funk, new music, classical and world traditions, forges a unique language, free of genre expectations, to revolutionize our relationships to each other. It will be performed by Jason Kao Hwang's improvising string orchestra, which is comprised of musicians from a wide variety of backgrounds. 
Through a notated score interacting with improvisations that are shaped by a lexicon of conducting gestures, the orchestra will conjure images of mercurial beauty. Vibrations rise and fall in a life cycle whirling and grooving through consciousness faster than the speed of thought. The flow of spontaneous moments illuminates the possibilities of our journey, revealing truths of who we can become. To be transformed by possibilities grounded in truth, is to transcend all Myths of Origin.
Also looking forward to Vision Festival performances with the Matthew Shipp Quartet (June 22) and Yoshiko Chuma (June 23).
On June 13, 14 and 15 theCreative Music Studio is presenting improvisation workshops at the New School led by Karl Berger, Billy Martin, Walter Thompson, Gabby-Fluke Mogul and myself.  Here's a description my workshop that will be on 6/15, 3:30 - 6PM.
Jason Kao Hwang's workshop: The Individual's Art of Improvisation: Instincts, Empathy, and Synergy 
In this workshop students will gain insights into the nature and origins of sound to cultivate their unique improvisational language rooted in personal history. Alternate instrumental techniques and visualizations will be explored to expand vocabularies that serve individual expressivity. Playing in combinations ranging from duos to large ensembles, with and without music, with conduction or completely free, students will learn how to trust their instincts and listen with empathy to create spontaneous synergy. Students coming from any genre, jazz, blues, classical, "world" or anything else, are welcome! Prior improvisation experience is not required.
Below is a video of Jason Kao Hwang/Human Rites trio with music from the CD.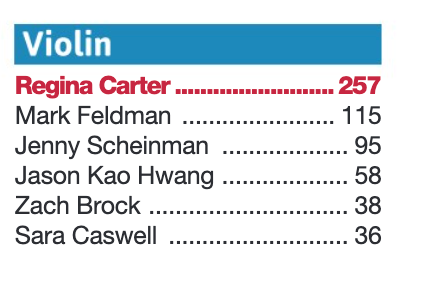 My thanks to the 2021 Downbeat Critics Poll for their votes. I share their love with all the musicians I have ever played with. We make this music together!